faq:email:certificate_warning_on_mail_client
Home > FAQ > Email > Email Clients & Mobile > Mail Client Issues and Troubleshooting > Why does my email client keep showing certificate warning
Why does my email client keep showing certificate warning?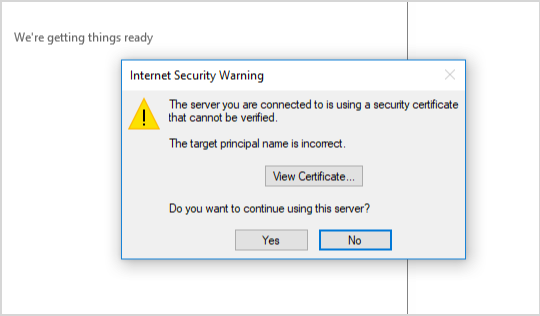 When you are connecting your email client (e.g. Ms Outlook) using SSL/TLS connection, or the mail client enforces SSL/TLS to all connections, the server provides the SSL certificate to your mail client. The mail client then analyzes the certificate and verifies against the mail server address that you are using.
Lookafter is using a global network exchange domain *.agnx.com as the secure certificate. If you are using mail.yourdomain.com as the mail server address, the mail client will display a certificate warning message as it finds that the mail server address does not match with the certificate.
When you receive such warning, click [Yes] or [Trust] to accept the secure certificate.
If you are constantly getting this warning, you can opt for changing the mail server address from mail.yourdomain.com to vo1.agnx.com / vo2.agnx.com/ g1.agnx.com.
IMPORTANT: Please consult Lookafter Helpdesk or utilize the Email Lookup Tool to confirm which server to be used for your domain before making any changes to the email server settings.
faq/email/certificate_warning_on_mail_client.txt · Last modified: 2022/09/27 17:42 by vikki